Are you NEW to Acupuncture?! Get your first visit for only
$79
Most people experience PAIN RELIEF and STRESS REDUCTION after only the 1st VISIT –ONLY $79! What have you got to lose, except your pain and stress!?
GET YOUR FIRST ACUPUNCTURE SESSION FOR JUST $79!
The path to a pain free life can begin with Acupuncture
Acupuncture is a natural healing modality that can boost immunity, increase energy, support biological systems, harmonize emotional health, and manage pain. Traditional Chinese medicine believes Qi (pronounced "CHEE") is the vital energy of life. Qi moves along "the channels " or the energy pathways known also as meridians. Qi helps balance and harmonize the different systems in our bodies. When Qi does not flow properly people experience pain and stress. Acupuncture treats and reduces pain and stress.
The real deal!
Dr. Kitt is the real deal. I was so completely relaxed while learning about Eastern medicine and being pampered. I am excited to see the results and continue treatments.
Amazing!
Dr. Kitt is amazing! From the moment you meet her, you feel relaxed. The rooms are so tranquil and put you at ease. She used the Bemer on whole body, red light on feet and jade mask on eyes to relax the mind. I also had ear seeds, never had those before. Loved them, plus they add a little bling.
She is knowledgeable on Chinese medicine and I will be making another appointment to talk about that and get another treatment.
A great healer!
Dr Kitt is so expansive and has many tools to be able to help any patient! So generous with her time. A great healer! I wish everyone were as thorough and approachable. Very empowering.
Pain and stress relief begins at SRQ Med Spa
Stimulation of an acupuncture point has been shown to innervate the nervous system and release neurochemicals in the brain, spinal cord, and muscles. This helps the body to heal itself. Acupuncture is a way to direct the body to "notice" a problem within the healing cascade, or it may be used to help expedite healing. Acupuncture is an effective, drug-free, safe therapy that can assist with many health problems and common illnesses.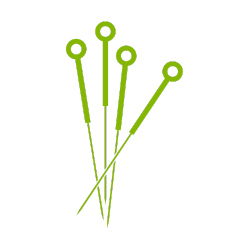 Pain relief and stress reduction.
Improves the quality of your sleep
Improves digestion and overall vitamin absorption
Reduces blood pressure.
Improves skin health
Boosts Immune System
Improves Cognitive Function
Can be used as supportive care in many illnesses
60 Minutes $79
90 Minutes $129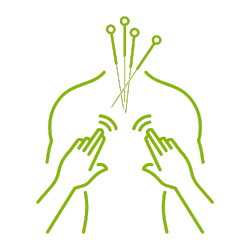 AcuSage
Massage and Acupuncture combined during a single treatment
Combining acupuncture with massage allows for acupuncture to tackle a specific targeted area of treatment. The tiny acupuncture needles add incremental healing and benefit by relaxing the muscles allowing the practitioner to get deeper into the tissue and thereby achieves better results. The SYNERGY of acupuncture and massage results in a more powerful and relaxing relief filled treatment.
60 Minutes $116
90 Minutes $169
Bemer Treatment
Bio Electro Magnetic Energy Regulation
This "add on" or stand alone therapy is delivered through a mat that is place under the client. Also known as "BEMER Treatments", this modality involves stimulating and invigorating the vasculature in your body called "capillaries". These are the smallest blood vessels in your body but their importance cannot be underestimated. This improved circulation to even the smallest blood vessels increases oxygenation and nutrition absorption at the cellular level. It also enhances waste removal of toxic byproducts that results in a reduction of inflammation. By reducing inflammation you can reduce pain and improve chronic disease management.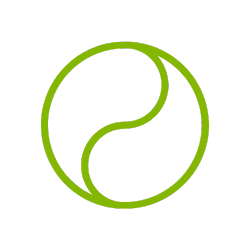 A La Carte Services
The following can be added to an acupuncture visit, or scheduled separately
Traditional Chinese Medicine Modalities

E-Stim $25
Fire Cupping $45
Gua Sha Scraping $15
Auricular Therapy
Each treatment below reflects the cost per ear
Ear candling $25
Ear Apex bleeding $10
Ear seeds $20
Semi-Permanent tacks gold & silver $35
Within 24 hours, I'm already seeing improvement!
Dr Kitt came highly recommended by a close friend I've never had acupuncture before. I've recently developed Bells Palsy and went to her seeking treatment because there is really nothing traditional Doctors could do for me. Within 24 hours of my first visit I'm already seeing signs of improvement . She was very kind and explained everything she was doing in detail I'm looking forward to future visits this is definitely the way to better health.
My headache was gone. I couldn't believe it!
I visited yesterday for another reason and in conversation with Dr. Kitt I mentioned I've been struggling with headaches for several days. She treated me and we continued our conversation I realized when I got in the car to leave that my stubborn headache was gone and it has stayed gone so far. I couldn't believe it. She's very passionate about what she does and very knowledgeable. I highly recommend it.
Who loves Acupuncture?
Explore the range of conditions that acupuncture can effectively address
Acute Bacillary Dysentery
Acute Epigastralgia
Allergies
Anxiety
Arthritis
Asthma
Autoimmune Disease
Back Pain
Biliary Colic
Breech Birth Presentation
Cancer Care
Carpal Tunnel Syndrome
Colds & Flu
Conjunctivitis
Dental Pain
Depression Diabetes
Digestive Disorders
Facial Pain
Facial Rejuvenation
Fertility
Fibromyalgia
Gastritis
Hay Fever
Headaches
Hypertension
Hypotension
Induction of Labor
Irritable Bowel Syndrome
Insomnia
Knee Pain
Leucopenia
Menopause
Morning Sickness
Multiple Sclerosis (MS)
Muscle Tension & Pain
Nausea & Vomiting
Neck Pain
Opioid Dependency
Peptic Ulcer
Periarthritis
Premenstrual Syndrome (PMS)
Postoperative Pain
Pregnancy Care
Primary Dysmenorrhea
Post-Traumatic Stress Disorder (PTSD)
Radiation/Chemo Reactions
Renal Colic
Sciatica
Sprains
Stress
Stroke
Seasonal Affective Disorder (SAD)
Tennis Elbow
Temporomandibular Joint Dysfunction (TMJ)
Tobacco Addiction
Weight Loss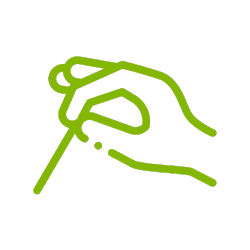 Meet Your Doctor, Dr. Kitt Hill, AP, DAOM
Dr. Katrina "Kitt" Chojnicki-Hill is a Board Certified Acupuncture Physician committed to providing care with exceptional expertise and true compassion.
Dr. Kitt graduated from the University of Central Florida where she earned her Bachelor's of Science in Mathematics & Mechanical Engineering with a Minor in Spanish. She spent 20 years in Research & Development in the Aerospace/ Defense industry before deciding to enter the world of natural medicine.
She received both her Bachelor's of Science in Professional Health Sciences and her Master's of Science in Oriental Medicine from East West College of Natural Medicine. She achieved her Doctorate of Acupuncture and Oriental Medicine from Five Branches University in California specializing in Pain Management and Emotional Wellness.
Results were phenomenal!
Visiting the area on vacation and suffered a debilitating bout of vertigo. I called Dr Kitt – she was kind enough to work me in and the results were phenomenal. Dr Kitt was very thorough and professional. She explained the acupuncture process, spent well over an hour with me and her fee was very reasonable. I feel so fortunate to have found her and to have gotten relief from the dizziness – I would highly recommend her!
Tamyan
A wonderful experience! Felt fantastic!
Was on vacation and wanted to include Wellness! I had a wonderful experience, very special Therapist. Felt fantastic! She's amazing!
Patricia
Very knowledgeable and skilled!
I really didn't know much about all the benefits of acupuncture before I met Dr. Kitt at a local business networking event. After visiting her office recently, I can personally attest that she is very knowledgeable and skilled in her profession. I will highly recommend her to my clients, friends, and family for chronic pain and health issues going forward!
Travis
Gave me tons of relief!
I had a sinus infection and was very congested. Dr. Kitt used acupuncture to drain my sinus passages. It gave me tons of relief. I am so grateful to her.
Tryla
Helped me reach my wellness goals!
Dr. Kitt is very friendly and personable. She listens to what I have to say, and how I experience my condition. She is highly educated, competent, and enthusiastic about this medicine. She has helped me reach my wellness goals, and I recommend her to my friends and family.
Tammy
After two months, my migraines have stopped!
Dr. Kitt stopped my migraines. I cannot believe how quickly she helped me get them under control. She asked me all kinds of questions. She listened to what I said. She prescribed me herbs, did an injection, and acupuncture. After two months of treatments my migraines have stopped. I highly recommend her.
Steve
5/5 Stars! Highly recommend!
Dr. Kitt (Katrina) is not only an amazing person, she is an educated and dedicated provider. She really hears you. Mechanical engineer turned physician, Kitt really knows her stuff. Kitt has compassionate bedside manner and takes all your needs and concerns to heart. Yesterday, she came to my house for a concierge house call because I was in extreme pain. She brought along her kit and gave me an injection, which immediately eliminated my pain. If you are looking for a provider to treat you like the amazing human being that you are, and to restore you to optimum health, look no further than Dr. Kitt. Kitt is dedicated to helping others and increasing their quality of life. 5/5 Stars. Highly Recommend
Stephanie
A lot of relief from stress and pain!
Dr. Kitt is talented. She actually listens to her clients. She has provided me with a lot of relief from stress and pain. The most appreciated is facial rejuvenation.. The use of Holistic Collagen has definitively made me look refreshed or younger. 5 Stars everyday!
Suzanne
Amazing, relaxing treatment!
I had the most AMAZING acupuncture treatment from Dr. Kitt! She is absolutely wonderful with a kind and compassionate beside manner that immediately puts you at ease. The treatment was SO relaxing, I fell asleep! Afterwards my pain was gone and I felt refreshed. Dr. Kitt is very professional, knowledgeable and very gentile in her technique with the acupuncture needles. I am certainly looking forward to my next session and would recommend her  to anyone!
Angelina